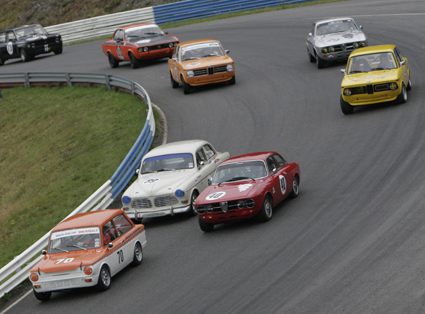 Historic Race Finland ry invites competitors to participate the next Historic Grand Race
racing event 21th – 22th August 2010 (The Ahvenisto racetrack in Hämeenlinna).
We hope to see You all next year in Ahvenisto!
RESULTS 2009
Historic Grand Race 2009 - race and qualifying results
DRIVERS 2009
Historic Touring Cars and Grand Touring Cars
Van Diemen SR Sport, SS 1300 and Locost
CLASSES
Historic Formula (FIA App K):
A - Single seaters, periods E – F
B - Formula V 1-carburettor, period G
C - Formula V 2-carburettor, period H
D - Formula Ford 1600, periods G – H
E - Formula Super Vee, periods H-I
Historic CT/GTS (FIA App K):
F/A - over 1600 cc periods E – F
F/B - up to 1800 cc periods E – F
F/C - up to. 1600 cc periods E – F
F/D - up to 1300 cc periods E – F
G/A - over 1300 cc period G
G/D - up to 1300 cc period G
H - period H
Historic T/GT (FIA App K):
HRF Roadsport:
V8 - over 3.5 l. V8-motor
A - 3.80-5.49 kg/hp
B - 5.50-6.99 kg/hp
C - 7.00-> kg/hp
Van Diemen SR Sport
SS1300
Locost
Mini 1000


INFORMATION

Ahvenisto racetrack has established on 16th July 1967. It is interesting with height differences. The lenght of track is 3040 m. Noise level must not exceed 110 dBa.

The town of Hämeenlinna (also accommodation) in Internet.


MAPS
The address of Ahvenisto: Poltinahontie 47, Hämeenlinna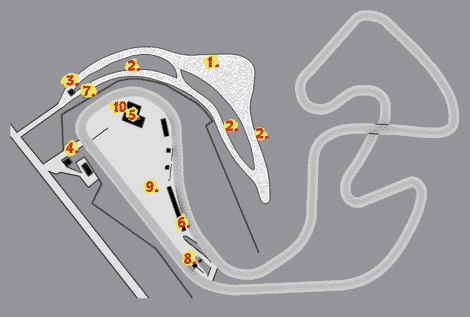 1. The vehicle gathering of entusiasts
2. The public
3. The entrance of public
4. The press office
5. Cafe, technical scrutineering, secretariat, drivers' official notice board, WC, dressingroom, bathroom
6. The pit area
7. The Historic Race Finland's sales stall
8. The tower of stewards
9. The paddock
10. The parc Fermé